Subsidiaries and partners
The ACDQ provides its 4,300 members with an integrated range of services, made up of different entities designed to meet all the needs of dentists and their dental offices.
Therefore, the ACDQ is the sole shareholder of Sogedent Assurances Inc., which offers advisory services and a range of damage and personal insurance products. The association is also the owner of the Société de services dentaires (ACDQ) Inc., which offers Dentaide, the only system that pays dental insurance benefits directly to dentists and Net+ACDQ, the secure private Internet network for dentists. The ACDQ is also a shareholder of Professionals' Financial, a wealth management company that offers private management products and services, wealth management and financial planning solutions, and a full range of mutual funds. In addition, the ACDQ manages the Réseau ACDQ service, which allows subscribing dentists to electronically submit insurance claims directly to insurers and immediately find out the insured portion of care.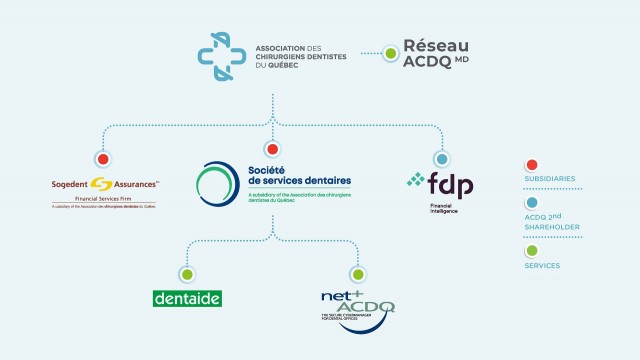 Subsidiaries and partners of the ACDQ, Sogedent Assurances, Financières des Professionnels, Centre Dentaide, Net+ ACDQ